Massage Therapy at Back On Track Wellness
A Powerful Recovery Tool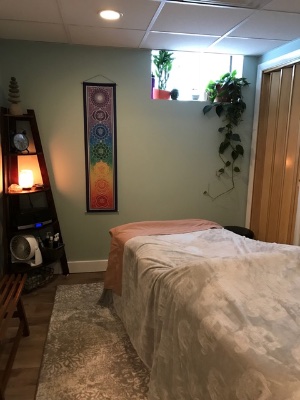 Here at Back On Track Wellness, we've found that massage therapy is a powerful recovery tool for a variety of problems — including acute and long-term injuries, chronic pain, headaches/migraines, carpel tunnel syndrome, TMJ, neck and back pain just to name a few – and we recommend it to all of our clients.
All of Back On Track's licensed massage therapists, Andrea Littlefield Robinson, LMT, Amanda O'Connor, LMT, and Jessica Laurin, LMT, have experience in acute and chronic injury rehabilitation, stress reduction, and overall wellness. They work closely with Dr. Sara to achieve each client's optimal results – and see the most improvement in those who choose to make massage therapy a regular part of their healthcare routine.
For those who have never experienced massage therapy as well as for the bodywork veterans, we've complied information about massage therapy in addition to frequently asked questions. Read on to learn more about how massage therapy can help you, too.
The Health Benefits of Massage Therapy
Of course massage therapy feels wonderful, but what exactly are the health benefits? Here's a brief list of how massage therapy can help you:
Alleviates pain and improves range of motion
Assists with aches & pains of pregnancy
Eases pain medication dependence
Enhances the body's immune system by stimulating lymph flow
Helps athletes of every level prepare and recover from challenging workouts
Improve sleep quality and reduces fatigue
Improves circulation by delivering oxygen and nutrients into tissues and organs
Improves emotional state of mind
Lessens depression and anxiety
Promotes tissue regeneration and reduces scar tissue
Reduces muscle spasms and cramping
Reduces pain from injuries caused by repetitive motions
Reduces post surgery adhesions and swelling
Reduces stress and promotes relaxation
Relaxes injured and overused muscles
Relieves headaches & migraines
Stretches tight muscles and increases flexibility of joints & muscles
Massage Therapy Session Prices
| | |
| --- | --- |
| Length | Cost |
| 30 minutes | $45 |
| 50 minutes | $75 |
| 70 minutes | $95 |
| 90 minutes | $115 |
| | |
Choose from deep tissue (deeper pressure & trigger point work), myofascial release (deeper pressure with active stretching), relaxation (light pressure), pregnancy, polarity (energy bodywork using crystals & stones) or Swedish (light to moderate pressure) – or let our therapists create a custom combination to suit your individual needs
For individuals with massage therapy benefits through their health insurance, workmen's compensation insurance, or motor vehicle/personal injury insurance, we are happy to submit massage therapy claims on your behalf. Please refer to the insurance/payment section of our website for rates or contact us for more information.
We accept Visa, MasterCard, American Express, and Discover credit cards, debit cards, personal checks as well as cash for massage therapy sessions.
Book Your Appointment
To book an appointment, please contact us at (207)899-0806 or via email at backontrackmaine@gmail.com
To book with Amanda O'Connor, please contact her at (207)749-8151 or via email at agoconnorlmt@yahoo.com
---
Gift Certificates
Additionally, give the gift of health with gift certificates to Back On Track Wellness! They are available in any denomination and make the perfect gift.
Call our South Portland office at (207) 899-0806 to place an order via phone
or order here:

Massage Therapy | South Portland | (207) 899-0806